Middle Eastern inspired lentil salad with orange, dates and kale, served with baked sweet potatoes as a complete meal.
It's been soup weather pretty much every day lately, and much as I love it, I'm feeling a bit souped out.
What to do, when you crave a brightly flavoured and colourful salad, and your summer favourites just aren't in season? It's true that most summer produce is available all year round, at a price, but it's certainly not at its best. There's nothing worse than an off-season tomato.
1. Look to the store cupboard
If a winter salad craving hits, look first to the store cupboard for a protein to base it around. It could be lentils, quinoa or even canned legumes like chickpeas.
I had a bag of French green lentils, which I love, so I built this salad around them. Green lentils are one of my favourites for their savoury, earthy flavour, and their ability to hold their shape - which makes them perfect for a lentil salad. They don't need soaking (though you can if you like), and cook comparatively quickly in around 25 minutes on the stove top.
I have a bit of a thing for lentils. If you do too, check out these lentil recipes for fresh inspiration:
2. What's in season?
It's early winter in New Zealand, which means citrus is hitting its peak, and my garden still has lots of greens like kale and spinach growing.
For this salad, I chose to slice up a large handful of de-stemmed kale leaves, then massage them with freshly squeezed orange juice, olive oil and salt until they'd broken down a bit.
...massaged them?
Yes, massaging your kale is a thing. Kale can be pretty springy and tough, and if you're not planning to cook it, then massaging it for a few minutes works wonders to soften it. I just get in there with my hands, giving it a good rub between my fingers, until it noticeably softens and relaxes. Unless you have tender baby kale available, this is the way to go when using mature kale for salads.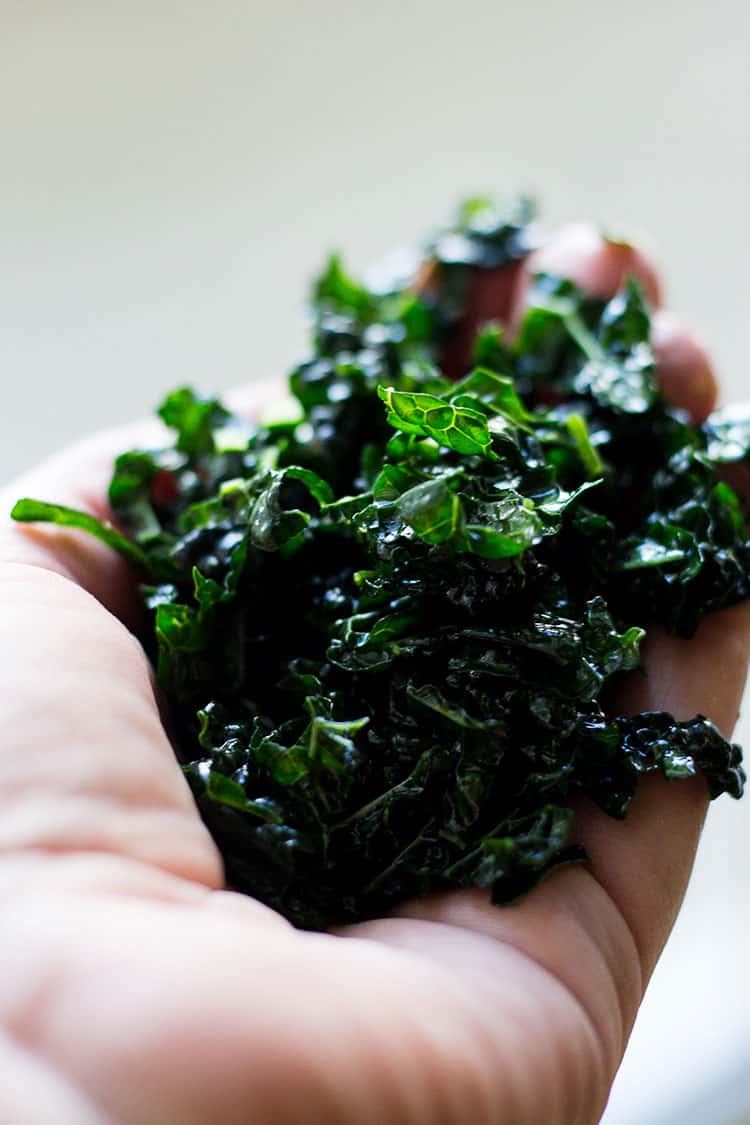 3. Build a flavour profile
I had some beautiful blood oranges from the green grocer, as well as some tart, early season regular oranges from a tree in my back yard. I decided to add segments of both types of orange and plenty of squeezed orange juice to give this salad a bright citrus flavour.
Orange can go in a few directions, and works very well indeed with Middle Eastern flavours. I had a box of soft, fresh Iranian dates in the fridge so decided to fully embrace the Middle East and build on those flavours with a little ground coriander and cumin, fresh coriander (cilantro) leaves and a big handful of green olives for saltiness.
Each mouthful of this lentil salad has hearty, fresh, sharp, sweet and salty going on, and it's a beautiful thing. To make this a complete meal, I served the lentil salad with a handful of small orange kumara (sweet potato), halved and baked until browned.
Winter? Who cares. You can still have your salad and eat it too.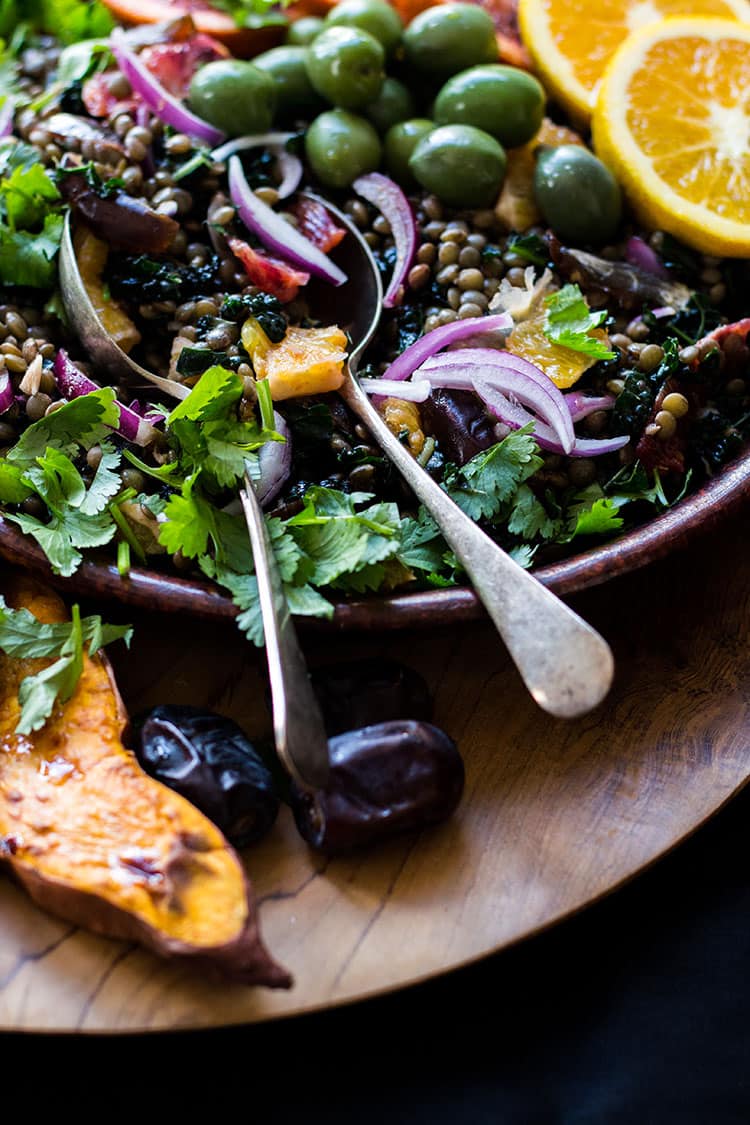 Get the recipe
INGREDIENTS
For the salad:
1

cup

French green lentils

(uncooked)

2

cups

cavolo nero kale

(lacinato kale), chopped (approx.)

1

tablespoon

orange juice

freshly squeezed

1

teaspoon

olive oil

¼

teaspoon

salt

2

oranges

peeled and segmented or sliced (I used both regular and blood oranges)

4

fresh dates

or medjool dates, pitted and sliced

1

small red onion

or shallot, thinly sliced

¼

cup

green olives

(or more, to your taste)

Large handful

fresh coriander

(cilantro) roughly chopped
To dress the lentils:
2

tablespoon

orange juice

freshly squeezed (juice of one orange, approx.)

1

teaspoon

olive oil

¼

teaspoon

ground coriander

¼

teaspoon

ground cumin

¼

teaspoon

salt
To serve:
4

small

orange kumara

(sweet potato), approx. 450g/1lb

A little olive oil to coat

(or spray oil)

Salt

Pepper
INSTRUCTIONS
If serving with baked kumara (sweet potato), preheat oven to 210C (410F).

Wash and dry kumara, cut in half lengthways, then rub with a little olive oil or coat with spray oil. Season well, then put in the oven to bake for 20-25 minutes, or until fork tender.

Cook the lentils in plenty of boiling water, for 20-25 minutes or until cooked but still retaining a little firmness. Drain, rinse and set aside to cool for 5-10 minutes.

While the lentils are cooking, wash, de-stem and slice your kale. Add it to a mixing bowl with 1 tablespoon orange juice, 1 teaspoon olive oil and ¼ teaspoon salt. Massage it by rubbing it between your hands for a few minutes, or until it noticeably softens and relaxes.

Dress the lentils with an additional 2 tablespoon orange juice, 1 teaspoon olive oil, ground coriander and cumin seeds, and salt. Stir well.

When you're ready to serve, toss together the lentils, massaged kale, orange segments, dates, red onion, coriander and green olives. Remove kumara from the oven and serve alongside the salad while hot.
NUTRITION INFORMATION
Calories:
423
kcal
|
Carbohydrates:
81
g
|
Protein:
16
g
|
Fat:
5
g
|
Saturated Fat:
0
g
|
Cholesterol:
0
mg
|
Sodium:
494
mg
|
Potassium:
1243
mg
|
Fiber:
21
g
|
Sugar:
29
g
|
Vitamin A:
17730
IU
|
Vitamin C:
62.9
mg
|
Calcium:
128
mg
|
Iron:
5
mg
Nutrition Facts
Lentil salad with orange, dates and kale
Amount Per Serving
Calories 423
Calories from Fat 45
% Daily Value*
Fat 5g8%
Cholesterol 0mg0%
Sodium 494mg21%
Potassium 1243mg36%
Carbohydrates 81g27%
Protein 16g32%
Vitamin A 17730IU355%
Vitamin C 62.9mg76%
Calcium 128mg13%
Iron 5mg28%
* Percent Daily Values are based on a 2000 calorie diet.