A nourishing and nutritious home made granola featuring antioxidant red beetroot powder, goji berries and cranberries.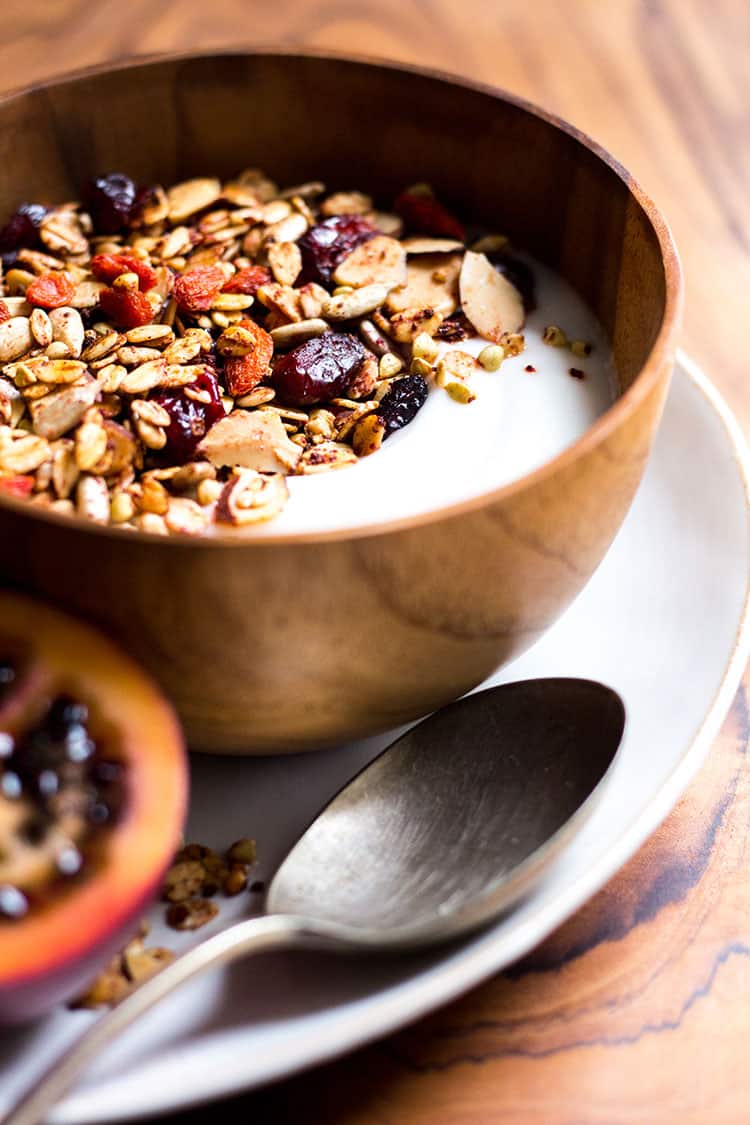 Last week I was very happy to get my hands on some organic raw beetroot powder. I don't usually use special superfood powders in my cooking, but I love everything about beetroot and the natural colour possibilities with beetroot powder are pretty exciting.
I'll be giving beetroot powder a try in smoothies and raw baking, where it's an obvious fit, but the first idea that came to mind was a red granola or muesli.
Beetroot granola? Why not? Red food for the win.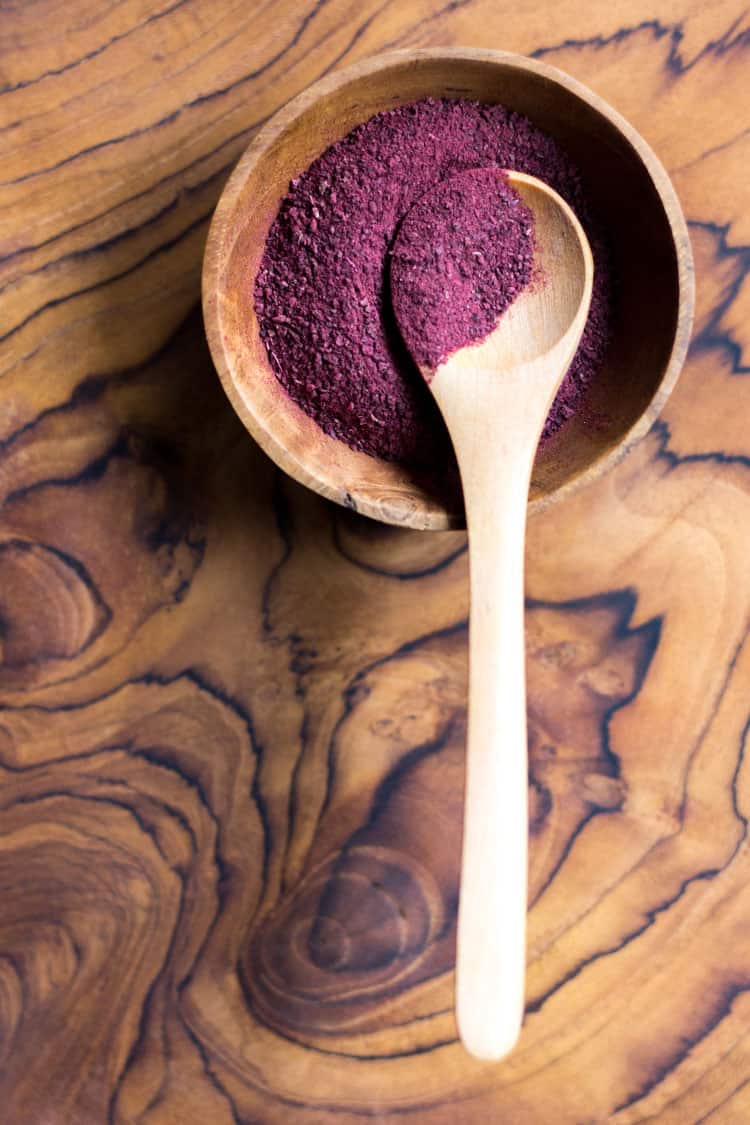 A simple selection of whole foods
I know I benefit hugely from a substantial breakfast that's nutrition packed. The days I opt for coffee and toast never go as well for me, I find myself hungry, craving sugar and ready to gnaw my arm off by lunchtime. Not pretty.
Home made granola or muesli is pretty much my ideal breakfast. It's delicious with fruit and yoghurt, and definitely gives me staying power. I tend to always go with a base of rolled oats, then vary the selection of seeds, nuts and fruits that go with it.
In this granola I used a simple selection of whole foods: rolled oats, buckwheat, sunflower seeds and slivered almonds. The reds - the beetroot powder, dried goji berries and cranberries - pack an antioxidant punch, and a slick of coconut oil and brown rice syrup give it a cosy, toasty sweetness.
Start the day with a bowl of antioxidants
Eating the rainbow is always good advice, it pleases your eyes, body and soul all at once. Reds and purples contain high levels of antioxidants, providing anti-inflammatory and detoxification support for your body.
I had visions of the beetroot powder turning the granola a vibrant bright pink, which didn't quite happen. It did however add a definite pinky-red glow to the mixture and a really lovely earthy base to its flavour, backed up by nutritional gold. (And no, it doesn't taste like a plate of vegetables).
Continuing the red theme, I added dried goji berries and cranberries to this granola mix. They share beetroot's health giving properties and provide just the right amount of sharp sweetness.
And doesn't it make for a pretty breakfast? Served with coconut yoghurt and fresh tamarillos, this is a gorgeous breakfast that will please you on every level.
Get the recipe
INGREDIENTS
2

cups

rolled oats

(certified gluten free, if required)

½

cup

buckwheat groats

½

cup

sunflower seeds

½

cup

slivered almonds

2

tablespoon

coconut oil

2

tablespoon

brown rice syrup

(or substitute maple syrup)

4

teaspoon

beetroot powder

½

cup

dried cranberries

¼

cup

dried goji berries
INSTRUCTIONS
Preheat oven to 180C/350F fanbake.

Mix rolled oats, buckwheat, sunflower seeds and slivered almonds together in a large baking tray.

Heat coconut oil and brown rice syrup together over a low heat, until melted. Stir in the beetroot powder, then pour over the oat mixture and stir to combine, ensuring everything is well coated.

Bake for 15-20 minutes or until golden brown, stirring every 5 minutes to ensure the mixture browns evenly and doesn't burn.

Remove from the oven and allow to cool. Stir through the goji berries and cranberries, then transfer mixture to an airtight container for storage.

Serve with almond milk or coconut yoghurt and fruit.
RECIPE NOTES
Nutrition information is based on a half cup serve and is for granola only (does not include milk, yoghurt or fruit for serving). 
NUTRITION INFORMATION
Calories:
275
kcal
|
Carbohydrates:
36
g
|
Protein:
7
g
|
Fat:
12
g
|
Saturated Fat:
3
g
|
Sodium:
20
mg
|
Potassium:
223
mg
|
Fiber:
5
g
|
Sugar:
10
g
|
Vitamin C:
0.1
mg
|
Calcium:
40
mg
|
Iron:
1.8
mg