Good for what ails you, this restorative rainbow chard and leek soup with basil and rice is both comforting and packed with nutritious green leafy vegetables.
The changing of the seasons hits everyone hard, and I think my family is feeling it a little more than most right now. Returning home from two months of travel in a (very) hot climate to autumn in New Zealand has been a bit of a shock to say the least. The time difference isn't in our favour coming home, so we've all been struggling to get to sleep at night and struggling to wake up in the morning, with no leeway to ease ourselves back into the normal rhythms of life.
After a funny turn landed me in hospital for a day of tests last week (everything was fine, thankfully) I took it as a stern reminder to take care of ourselves. We've spent a cozy Easter weekend at home, with pots simmering and good smells drifting from room to room. Focusing on nutritious meals is good for my soul, and our bodies. It's been restful, restorative and exactly what we needed.
While we were away we entrusted our home and our fur baby to the most wonderful housesitter. We returned to find our home taken care of as if we'd never been away, our cat healthy and happy, and our vegetable garden well tended with new crops planted where summer's tomatoes had been and gone. The highlights in our garden right now are sweet, young baby leeks as thick as my thumb; tender, slender stemmed rainbow chard with its veiny leaves and jewel tones; and enormous quantities of musky, full flavoured basil.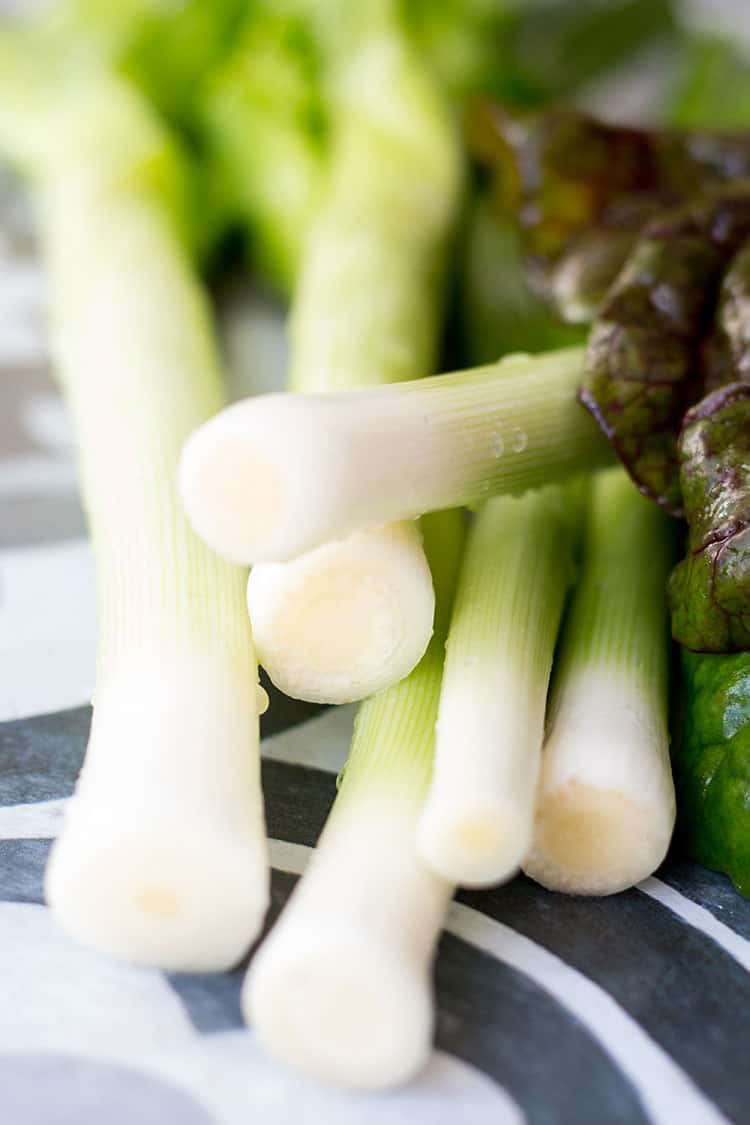 Rainbow chard: Eat your greens (and yellows and pinks)
I'm quite a fan of kale (see exhibits A, B and C) but I can't say the same for everyone in my house. The more tender leaves of silverbeet (Swiss chard) or spinach meet with far less resistance at the family table.
Rainbow chard (actually a mix of white-stemmed Swiss chard, red chard, and golden chard) would have to be one of my favourite greens, admittedly for its looks as much as its flavour. A relative of beetroot, it's high in vitamins A, C and K, as well as iron, magnesium, manganese and potassium.
The crisp stems and tender leaves of rainbow chard are both edible, and you can use them virtually anywhere you would use kale or spinach. I prefer it cooked, but there's nothing stopping you eating rainbow chard raw if you're game - it'd be both pretty and tasty mixed with milder flavoured greens in a salad. Keep in mind that the beautiful colours do all but disappear when cooked, so appreciate the colours as a fleeting pleasure while you're in the kitchen.
If you're not lucky enough to have a green-fingered housesitter to plant rainbow chard for you, keep an eye out for it at your local farmers market.
A restorative, chopped green soup
Armed with all the fresh produce I could hope for, I prepared this restorative green soup for a weekend lunch. I often make a smooth green soup (a family staple in winter), but in this instance with young, tender vegetables available I preferred to leave the greens chopped.
I softened chopped leeks and garlic in olive oil, before adding the sliced stems and leaves of the rainbow chard. A well-flavoured vegetable stock, a handful of arborio rice and the warmth of white pepper were enough to take a benchful of greenery through to flavourful broth.
Just before serving, I freshed the flavours up with a very large handful of finely chopped fresh basil and a squeeze of lemon. Served with a good crusty bread, this was a simple, healthy meal our whole family enjoyed a lot.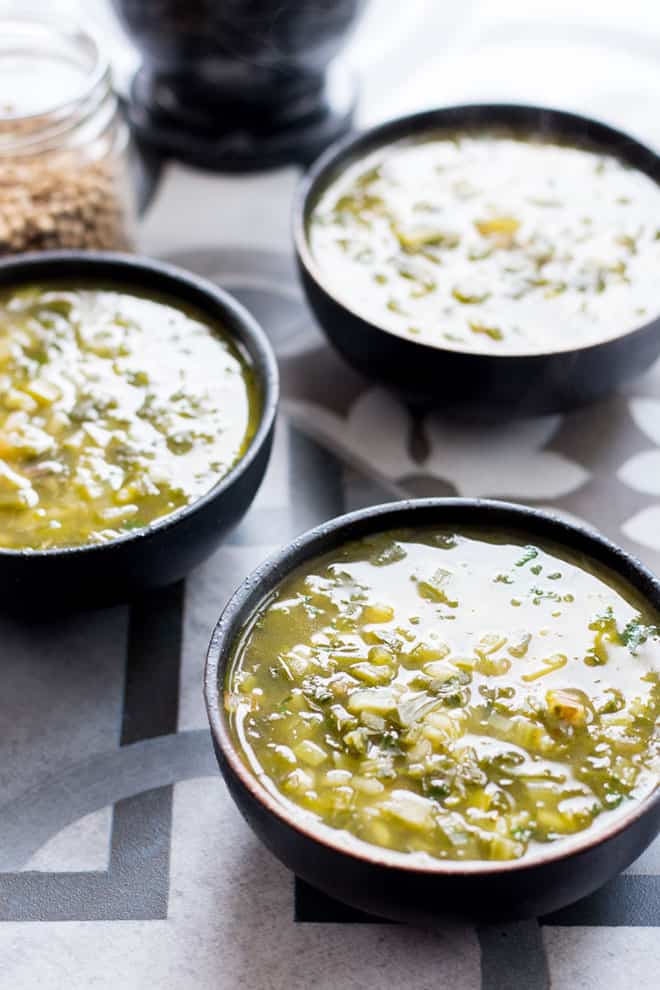 Get the recipe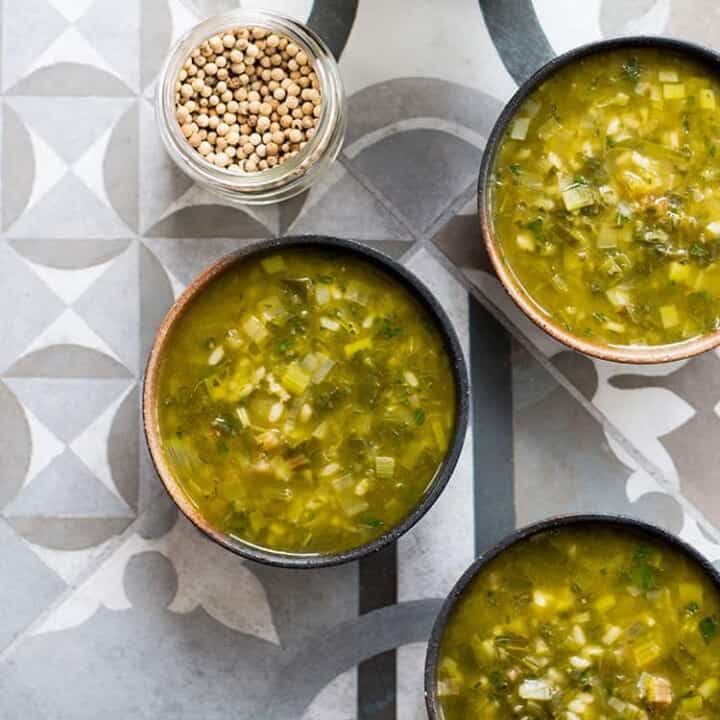 INGREDIENTS
2

tablespoon

extra virgin olive oil

6

baby leeks

(or one large)

1

clove

garlic

crushed or finely grated

3

cups

rainbow chard

finely chopped (about 10 leaves, stems included)

4

cups

vegetable stock

⅓

cup

arborio rice

½

teaspoon

ground white pepper

1

tablespoon

lemon juice

freshly squeezed

½

cup

basil leaves

finely chopped (about 30 leaves)
INSTRUCTIONS
To prepare your vegetables, wash and trim the leeks, retaining some of the green part. Finely chop. Wash the rainbow chard, remove the stems and finely slice, then finely chop the leaves (keeping leaves and stems separate).

Heat olive oil over a low heat in a large saucepan. Add leeks and garlic, cook for about five minutes or until softened and fragrant, but not coloured.

Add rainbow chard stems and cook for another 1-2 minutes.

Add the rainbow chard leaves, vegetable stock, rice, white pepper and an additional two cups of water. Simmer for 15 minutes, or until the rice is tender.

Just before serving, stir through a generous handful of finely chopped fresh basil (about 30 leaves, or half a cup once finely chopped) and lemon juice. Taste and adjust seasoning with salt or more white pepper as required.
NUTRITION INFORMATION
Calories:
156
kcal
|
Carbohydrates:
21
g
|
Protein:
2
g
|
Fat:
7
g
|
Saturated Fat:
1
g
|
Sodium:
1002
mg
|
Potassium:
167
mg
|
Fiber:
1
g
|
Sugar:
3
g
|
Vitamin A:
2710
IU
|
Vitamin C:
13.2
mg
|
Calcium:
33
mg
|
Iron:
1.8
mg