A creamy vegan pumpkin pie cheesecake made with a maple sweetened mixture of pumpkin, spices, cashews and coconut yoghurt for an authentic tasting tang.
If the internet tells me anything, it's that fall (autumn to the rest of us) has arrived in the United States. No one seems to celebrate the change of seasons more than our friends in the US, especially autumn when pumpkin pie spice literally explodes all over the internet.
It's the best kind of explosion, I reckon. I haven't had actual pumpkin pie since I was a kid, but I've had a great deal of pleasure experimenting with pumpkin pie spices over the past few years.
Pumpkin pie spice is a combination of ground cinnamon, ginger, nutmeg and cloves in roughly a 4:1:1:1 ratio. It's the very definition of cozy and absolutely delicious used in all kinds of recipes, including muffins, loaves and even smoothies.
In New Zealand pumpkin is most often made into soup or roasted, and almost always used for savoury purposes. I created this vegan cheesecake recipe for the autumn 2019 edition of Nourish magazine to demonstrate the versatile ways pumpkin can be used - including in sweet dishes. I'm a bit late sharing the recipe here, but pumpkin is easily available year round in New Zealand and this is perfectly seasonal for the northern hemisphere right now.
How to make vegan pumpkin pie cheesecake
Vegan cheesecake is one of my favourite indulgences and something I've experimented with a lot. For this vegan pumpkin pie cheesecake I used my favourite combination of base ingredients - almonds, pumpkin seeds and dates processed together with coconut oil and pressed into the base of a spring form tin.
The topping is a luscious combination of pumpkin puree, cashews and coconut yoghurt. The coconut yoghurt adds a little tanginess, which balances out the sweetness and adds a more authentic flavour to the creamy topping. I opted to keep some of the cheesecake topping plain to add a contrasting colour layer.
To my American readers, you can use canned pumpkin puree if you prefer. It doesn't exist in New Zealand, so we make our own. To make pumpkin puree simply cook chunks of peeled pumpkin until tender then blend until smooth. I used buttercup pumpkin (squash) but you can use any type of pumpkin you have available.
If making your own cheesecake sounds complicated, don't worry. You do need to allow some time for a few different steps, and chilling to set the cheesecake, but the hands on time is pretty straight forward.
Soak cashews.
Cook pumpkin, blend and set aside.
Blitz base ingredients together, press into a springform tin and chill.
Blend topping ingredients, minus the pumpkin and pumpkin pie spices, until completely smooth. Set some aside for the top layer.
Add pumpkin and pumpkin pie spices to the remaining topping mixture, pour over the base and chill for a few hours.
Pour reserved plain mixture over the pumpkin layer and chill to set.
I chose to garnish mine with maple pumpkin seeds, which are totally optional depending on your mood.
Pretty as a picture, huh?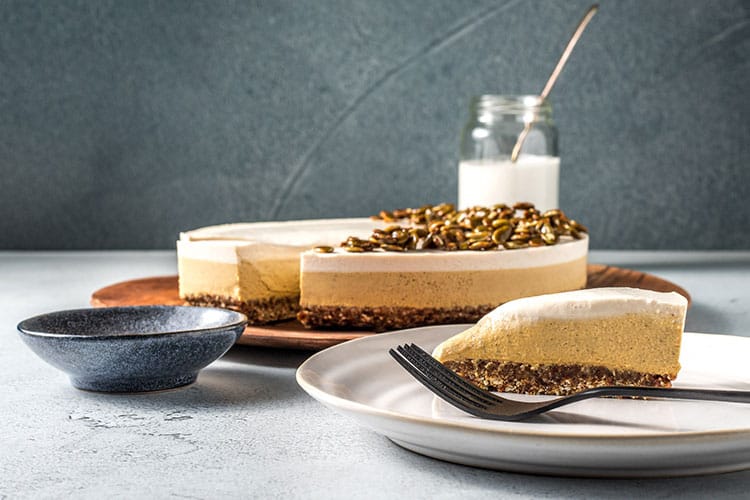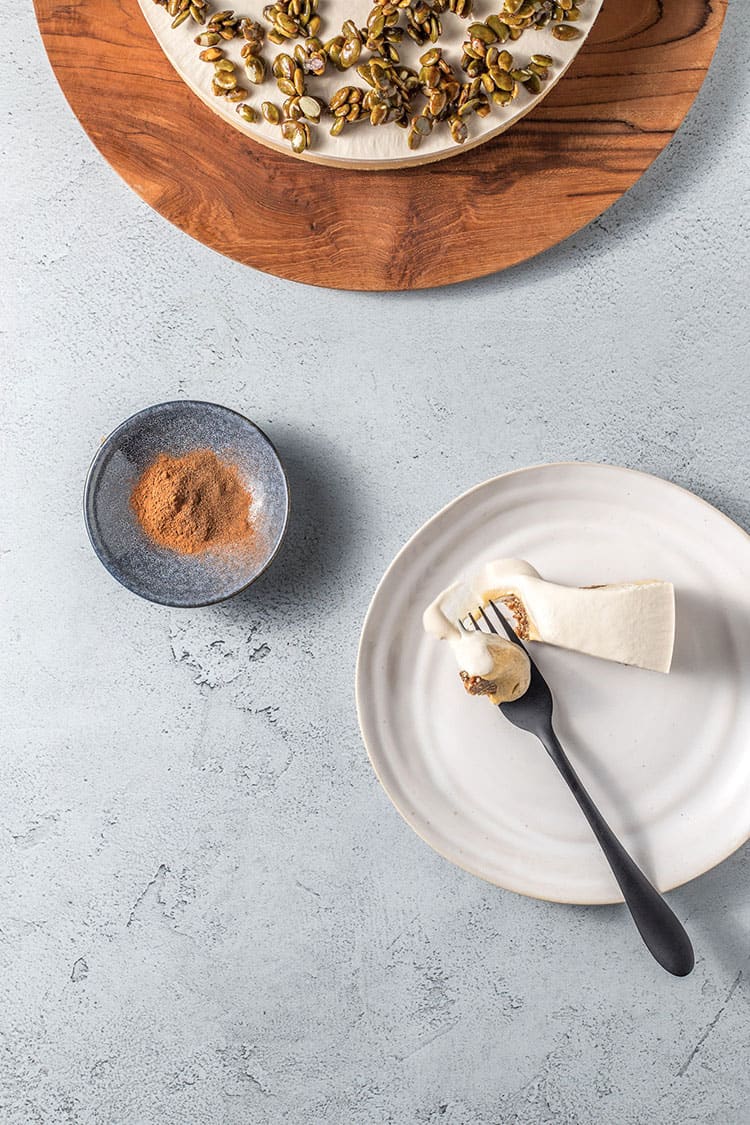 You might also like
Get the recipe
INGREDIENTS
For the base:
1

cup

almonds

½

cup

pumpkin seeds

2

cups

dates

roughly chopped

2

tablespoon

coconut oil

Pinch

salt
For the cheesecake filling:
3

cups

raw cashews

soaked (see recipe notes)

1 ½

cups

coconut yoghurt

⅓

cup

maple syrup

¼

cup

coconut oil

(melted if solid)

1

teaspoon

natural vanilla extract

2

tablespoon

almond milk

1 ½

cups

pumpkin puree

(see recipe notes)

1

teaspoon

ground cinnamon

¼

teaspoon

ground ginger

¼

teaspoon

ground nutmeg

¼

teaspoon

ground cloves
For the maple pumpkin seeds (optional):
¼

cup

pumpkin seeds

1

tablespoon

maple syrup

Pinch

salt

PInch

ground cinnamon
INSTRUCTIONS
To make the base, blitz the almonds and pumpkin seeds together in a food processor until they form an even sized crumb. Add the dates, coconut oil and salt and blitz again until the mixture is well combined and a small amount holds together when squeezed between your fingers. Press the mixture firmly into the base of a springform cake tin and chill. 

To make the cheesecake filling, blend the cashews, coconut yoghurt, maple syrup, coconut oil and vanilla extract until completely smooth. Remove 1 cup of this filling to a separate mixing bowl, stir through 2 tablespoon of almond milk to loosen it a little and set aside. Add the pumpkin puree and spices to the mixture that's still in the blender and blend again to combine. 

Pour the pumpkin flavoured filling into the cake tin and smooth the surface. Freeze for 1-2 hours, then pour over the plain vanilla filling, smooth the surface, sprinkle with maple pumpkin seeds (if using) and return to the freezer for at least 6 hours, or until set. At this point the cheesecake should be set but sliceable. If you keep it in the freezer for longer it will eventually freeze solid, which is no problem, just let the cheesecake thaw at room temperature for an hour or so before serving. The cheesecake will continue to soften at room temperature. 

To make maple pumpkin seeds, toast the pumpkin seeds in a dry frypan over medium heat until they are golden and fragrant. Add the maple syrup and stir for a few minutes until the maple syrup has caramelized and coated the pumpkin seeds. Sprinkle with cinnamon and salt, then scrape the pumpkin seeds out onto a dinner plate, spread evenly and allow to cool. Break the pumpkin seeds up into clumps to garnish the cheesecake. 
RECIPE NOTES
Soaking the cashews first will soften them and allow them to blend to become perfectly smooth. Soak cashews in cold water for 8 hours or overnight, or in very hot water for about half an hour, before draining and rinsing.

Use store bought pumpkin puree if you prefer, otherwise make pumpkin puree by 

cooking chunks of peeled pumpkin until tender then blending until smooth. Use any leftover puree for soup.

The finished cheesecake can be stored in the freezer. Allow at least an hour (maybe two) for it to thaw and soften enough to serve.
Recipe first published in the autumn 2019 edition of Nourish Magazine.
NUTRITION INFORMATION
Calories:
457
kcal
|
Carbohydrates:
43
g
|
Protein:
12
g
|
Fat:
30
g
|
Saturated Fat:
10
g
|
Cholesterol:
4
mg
|
Sodium:
73
mg
|
Potassium:
624
mg
|
Fiber:
6
g
|
Sugar:
27
g
|
Vitamin A:
4796
IU
|
Vitamin C:
2
mg
|
Calcium:
116
mg
|
Iron:
4
mg